Edustus (Myynti tai huolto)
Toyota, BT
Yritys info
In 1956 Toyota manufactured its first forklift and by 1995 they were the first forklift manufacturer to make over one million units - a distinction shared with few other manufacturers. Fork Truck Services Ltd are market leaders due to unrivalled levels of performance, reliability, driver comfort and safety.

Forktruck Services Ltd., was established in 1981 and is a main Toyota Dealer for thirty Years, covering the South Leinster area – which includes South Dublin. In 2001 the Company moved to a state of the art premises just off the M50 where we have 10,000 square feet of Workshop, Stores, and Offices.

Fork Truck Services has been the leading agent in all types of trucks including electric, gas, diesel also warehouse equipment, we also provide a full range of anciliary products such as Hydraulic Attachments, Work Platforms, Fork Extensions, Mobile Container Loading Ramps, Hand Pallet Trucks etc. You will find we also have a wide range of secondhand vehicles available.

In today's challenging environment, businesses need quality service and reliable products. Whether you are a single truck user or utilise a fleet of trucks, Fork Truck Services Ltd have the knowledge and reputation to provide you peace of mind with your choice of material handling equipment. We are committed to providing customers with cost effective solutions and ensure that a customer's needs are dealt with personally and professionally.

Fork Truck Services operate a full fleet of Hire Trucks, these trucks are available for hire short term or long term.

Our Service department include 15 fully trained Service Engineers, a same day service is operated for breakdown repairs. A back up Service Team located at Toyota Ireland's premises at the Killeen Road is also available in emergencies.

Fork Truck Services also provide a comprehensive stock of Spare parts in our state of the art parts department. The major Stocks (1 million - largest of any Irish Forklift Distributor) are carried at Toyota Ireland. Deliveries of dealers orders take place on a thrice daily basis through DSV Van couriers.


---
Käytetty kone
A wide choice of equipment is always available either for sale or hire. Each used machine will perform to the same standards of quality and reliability you've come to expect from Toyota. In fact, the best new forklifts make the best used ones.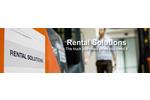 Vuokraus
Fork Truck Services (Ireland) has been the leading agent for the last number of years of Toyota Industrial equipment ranging from Electrical Forklifts, Diesel forklifts, Gas forklifts and other Toyota/BT Warehouse Equipment.

We have a wide range of forktrucks for hire. No term too long and no term too short and available at very Competitive rates. Our Fleet of Hire Trucks are maintained to the highest standard and are all fully certified by our team of highly qualified Engineers.

Short Term Hire:

Short Term Hire: This is often the solution to catering for peak periods, seasonal rush or even equipment breakdown. By availing of this service there is no need for an investment in an extra truck to be on stand by and no need to keep the old spare when this will be costing you more than it will give back to you in terms of value for money.

Long Term Hire:

Long-Term Hire: refers to equipment needed for a year to five years or longer. This is the area, which has seen the most growth in the last decade with more customers making this the preferred method of acquiring the equipment they require. This option allows customers to focus on their own business and lets us maintain the trucks in perfect working order without the need for endless paperwork. Customers also use this method to control their overheads with no untimely or expensive maintenance costs popping up from time to time.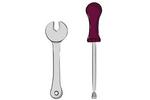 Huolto
With the support of our 15 service engineers, a same day service is operated for breakdown repairs. Service calls received before 10.00 a.m are attended to immediately. Calls after this time in the South Dublin area will be attended to on average within two hours. A back up team located at Toyota Ireland's premises at Killeen Road is also available in emergencies. At fork Truck Services Ltd we are committed to quality and customer satisfaction.

Our team of experienced service engineers regularly attend training courses with the emphasis on preventative maintenance ensuring the minimum of downtime and ensuring your material handling equipment will always be "up and running".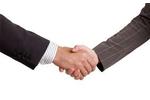 Service Contracts
Service Contracts are available on request.

Our Service Contract system does not require a signed agreement but operates on a verbal arrangement which can be terminated or altered at any time by the customer.

Our Service office maintains a Service Schedule for every Forklift on contract and we advice the customer when each service becomes due. The servicing period is previously agreed with the customer according to the work cycle of the truck – every three months- four months or six months. A specific time is then agreed upon convenient to the customer and ourselves for the service to be carried out.

On average a full service will take about four hours.

We would of course encourage you to have a service contract with us as it has been well proven that regular servicing considerably increases forklift life, and minimises expensive downtime.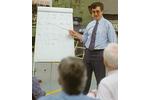 Training
Training Solutions:

Our Forklift Training School offers the following courses for Beginner/Novice and Experienced Forklift Operators:

A) Counterbalance 1-10 to Forklifts
B) ReachTruck 1-3 Ton Forklifts
C) Pedestrian or Ride on Power Pallet Trucks

D) Bendi Flexi Trucks
E) Conversions
F) Re- certifications

G) Manual Handling Safety (All Staff including office and administration staff should have this)
H) Occupational First Aid.

All Employers are required under 2004, 1993 Health and Safety at Work Acts to have all Forklift and Power Pallet Truck operators certified including part-time and Holiday relief Staff.

We offer both on and off site training.
Myyntialueet
Ireland - covering the south Leinster area – which includes South Dublin, Wicklow, Kildare, Offaly, Carlow and Laois.

We can also supply the England, Scotland, Wales and Europe.