tjeneste for
Hyster, Kalmar, Carer, Svetruck, Jumbo - Bulmor, SMV, Heden, Konecranes, Linde, Terberg, Jungheinrich, Hyundai, MOL, CVS Ferrari
Informasjon om selskapet
UnikTruck is an internationally oriented trading company that specializes in buying, selling and renting out as-good-as-new preowned forklift trucks and container-handling equipment. Our international contacts and the proven competence in handling preowned equipment, is your guarantee for excellent products and services at a reasonable price compared to new equipment.

In principle we buy, sell and rent forklifts in all categories and sizes, and with both electrical and internal combustion engines. But our most important competence lies in the heavy forklift and container-handling categories from 10 – 52 tonnes capacity, which has been our specialty for many years. Through the last 15 years we have established a solid and wide network of trading partners around the world.
In our rental fleet we always keep new or newish 12 ton, 16 ton and 25 ton forklifts available at short notice.

Regardless of your specific need for heavy materials handling or container-handling, there is a high probability that we can offer you the best solution in terms of quality and economy.

---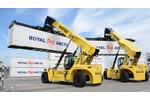 Nyheter og pressemeldinger
UnikTruck is more than merely a business. it is a philosophy and a lifestyle and, quite simply, all about adding value for our customers.

UnikTruck's vision is to be a niche-based, global trading company, specialising in sales and rental of nearly new, heavy-lift forklifts and container handlers. As our name cunningly suggests, our core competency is to source and supply heavy, complicated and unique trucks and container handling equipment. These are typically between 12 and 80 tonnes, and the vast majority of operators on the market do not have the resources to buy them. And our business is global.


We sell products and services, both directly to end users abroad and through local forklift dealers. Our strategy is not to create competition on the regional market but to generate close relations and partnerships between UnikTruck and other forklift truck dealers.

Our all-pervading motto – Handling Heavy – is based on our basic principle of meeting our customers' requirements for handling heavy, special consignments, both quickly and cost-efficiently. Our goal is to provide our customers with value-adding solutions. Every time.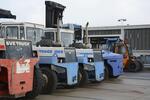 Leiee & Utleie
It may seem like a big investment if you find you need one of the very large forklift trucks or container handlers. UnikTruck has a variety of solutions for rental agreements. Our most important job is to to make your heaviest lifts as light as possible.

UnikTruck can offer short-term rental whereby we finance the truck and see to its regular service. Since we are self-funding, our flexibility in this line of business is unique.
Alternatively, UnikTruck can offer long-term rental. In this case, we sell the truck to a leasing company and see to the regular service ourselves. We guarantee the salvage value of the truck, which ensures our customers both a pre-agreed, fixed monthly fee and optimal flexibility.

Workshop
At UnikTruck, our ambition is always to be able to provide our customers with 360-degree service – from the smallest repair and preparation jobs to major, complex customisations. We have installed the very best facilities in our state-of-the-art, specially equipped workshop premises. We have, for instance, our own welding and plate shop, and our paint booth is big enough to accommodate even the largest container truck.

All of our expert and specially trained mechanics uphold high professional standards. We can therefore offer an extensive range of services, from preparation and service to painting and sandblasting of nearly new, used forklifts.

No job is impossible for us. We consider challenges an opportunity to meet our customers' unique needs.
All of our vehicles and equipment are received, inspected and stocked either in Odder, near Aarhus, or in Hamburg. Both new and used forklifts are carefully inspected and prepared using special checklists, in order to ensure that they are of the highest quality and meet the highest standards. They are divided into the following three categories:

Ready to go and drive ('as-is')
Serviced, function-tested and security-cleared
Fully refurbished and security-cleared

Our quality-classification system enables us to create customer-specific solutions, tailored to the individual customer's needs. For this reason, and so that we can make allowance for your particular situation and preferences, the sales price is not fixed until we have discussed and agreed on the equipment with you.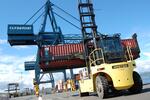 Transport & Shipping
UnikTruck offers turnkey solutions, providing transport from door to door and on-site help for commissioning and start-up – always using our own specialists and equipment. Our priority is to provide our customers with value-adding solutions.

We take pride in providing our customers with fast and effective transport solutions. Our skilled technicians, drivers and well-equipped vehicle fleet can handle any job, anywhere in the world.

We have the facilities, resources and infrastructure to meet our ambition to be the market's leading full-service partner for your business, providing efficient handling and transport of heavy, wide and high loads.