Assistenza per
Kalmar, Terberg, Manitou, Unicarriers, Meclift, BYD, Bendi
Informazioni aziendali
Feyter Forklift Services concentrates on forklifts, telehandlers, container handling machines, port equipment and warehouse machines. Feyter Forklift Services is known as a specialist in the field of customer-oriented, made-to-measure items for rental, lease, service contracts and sale- and lease-back operations. Next to its headquarter in Terneuzen (Netherlands), the company has subsidiaries in Vlissingen and Rotterdam.

PROMINENT BRANDS
Feyter is specialised in, and has dealerships for very prominent brands like
Kalmar, Terberg, Manitou and UniCarriers. With well equipped workshops, state-of-the-art
equipment, highly qualified engineers and over 40 fully equipped service verhicles which are continuously manned by one of our technicians, Feyter Forklift Services guarantees quality care for all equipment.

FOCUS ON HEAVY HANDLING WORLDWIDE
When it comes to customised solutions in heavy handling, Feyter Forklift Services has been a strong partner to the Dutch and Belgian port industry for over 40 years. Feyter Forklift
Services was founded in 1974 in the port of Terneuzen. About a decade later a second office
was opened in the port of Vlissingen and shortly after a third location opened in Belgium, in the port of Ghent.

With a special focus on the sales, rental and lease of new and used reachstackers, heavy
lifting forklifts and terminal tractors, Feyter Forklift Services nowadays delivers on a global scale.

PART OF FEYTER GROUP
Feyter Forklift Services is part of the Feyter Group. Feyter was founded in 1959 as a one-man company. The company has grown into what is now known as Feyter Group. A both regionally and internationally oriented group of concerns with many specialisations and a broad customer base.
---
Veicoli Usati
TOP QUALITY OCCASIONS - Given the harsh conditions faced by the machines in the ports, the quality and reliability of both new and second hand equipment is top priority for Feyter. With well known brands like Kalmar and Terberg, Feyter offers machines of the highest quality. For the second hand heavy handling equipment, Feyter is specialised in the comprehensive
overhaul of equipment to meet the tough
requirements of the harbour.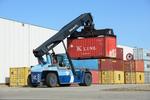 Rental & Sales
EXTENSIVE FLEET - Owning machines costs money. Therefore it's a waste when machines are not continuously in use. Instead of buying extra machinery, it is sometimes a better solution to rent in order to
cope with (seasonal) peaks in your business!

Feyter Forklift Services has an extensive fleet of
forklifts, telehandlers, reachstackers and
terminal tractors. Ready to be added to your
material handling fleet for temporarily hire.
When the rented machines are no longer
needed, you can immediately stop the rentalperiod.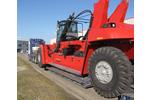 Preventivo gratuito di trasporto
TRANSPORT IS OUR CONCERN - Our office in the port of Vlissingen is the hub for all our heavy handling operations. And not without reason. From this seaport, but also from the nearby port of Antwerp and the port of
Rotterdam as crossroads of global supply chains,
our machines can be shipped all over the world
easily.

Visiting our company? The international airport
of Brussels is just an hour drive away from both our departments in Terneuzen and Vlissingen.