Service for
Clark, Hyster, Yale, HC (Hangcha), A.T.I.B., Balkancar, Desta, Caterpillar, Bobcat, Nissan
Company Information
Predaj, servis manipulačnej techniky a stavebných strojov.

Ponúkame Vám vysokozdvižné vozíky renomovaného svetového výrobcu manipulačnej techniky HC forklift, ktorého sme oficiálnym obchodným partnerom. Naša spoločnosť zastrešuje komplexne zázemie tejto značky v rámci obchodných služieb, poradenstva a servisu pre Slovensko.

Main focus of the company MaS technik s.r.o. is on the sale and service of handling technology & construction machines. This is what our company name stands for MaS: Manipulačná technika (handling technology) and Stavebné stroje (construction machines).
Providing consultations while obtaining new vehicle, finding partner for buy back old one, or even using our buy back program is a basic flavour of the good relationship with our customers. Our partners also can lease handling technology and construction machines from our stock.

We offer wide range of extra services including expendable materials and genuine spare parts for several handling technology and construction machines brands. It is also possible to provide competitive prices generic spare parts for renowned brands.
Used
Veľmi dôležitým aspektom pri kúpe ojazdeného resp. použitého stroja je i jeho celkový technický stav a poskytovaná garancia. Na všetky naše ponúkané stroje poskytujeme záruku. Jednotlivé zariadenia strojov sú komplexne skontrolované a odskúšané vrátane prevedenia výmien prevádzkových náplní a vystavenia protokolu o TK a revízii LPG zariadenia (ak sa jedná o plynový VZV).


Rent
MaS technik ponúka možnosť prenájmu stavebných strojov a manipulačnej techniky.

Využite výhody prenájmu:
- platíte len vtedy, ak potrebujete stroj a Vaše kapacity nepostačujú na určitú zakázku
- eliminujete náklady na servis a údržbu mechanizmov
- náklady na prenájom môžete zahrnúť do odpočtu dane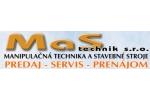 Service
Firma MaS technik pre Vás zabezpečí komplexnú technickú prehliadku Vášho motorového vysokozdvižného vozíka s vystavením protokolu o stave spôsobilosti prevádzky a taktiež s nariadenými opatreniami na odstránenie závad. Po úspešnom prevedení technickej prehliadky bude zákazníkovi vystavený platný technický preukaz na jeho VZV. Technické prehliadky sú vykonávané podľa platných noriem STN a v súlade s ISO 3691.

Forklift complex technical revisions
MaS technik Company provides general technical inspection for your forklifts. Service includes issue of MOT certificates and detected defects report. Once the inspection is complete, the customer obtains goods test certificate for his forklift. We perform all these service in the compliance with valid regulations and ISO 3691.