Service for
CAT, Clark, Crown, Daewoo, Hyster, Komatsu, Mitsubishi, Nissan, Toyota, Yale
Company Information

Accurate Forklift, Atlanta Forklift Rental, Atlanta Forklift Service

Accurate Forklift has been in the Atlanta area for over nineteen years specializing in Forklift Service, Forklift Rental and New and Used Forklift Parts. Our name is a trusted name in the forklift industry. We provide quality Forklift parts and add-ons at a fair price. From our #1 certified mechanics to our knowledgeable Forklift Parts staff, we look forward to helping you save on downtime and reducing the overall cost of maintaining your Forklift fleet.

We take great pride in the outstanding Forklift service that we offer our customers. Because your material handling operations are extremely important to your business, we believe that providing you with a knowledgeable, dependable and responsive forklift service team is vital to keeping your operations running efficiently at all times.

If you have any questions about our inventory of fork lift parts, or if you are looking for a specific piece of equipment that you do not see on our Web site, please call us or fill out the form on the contact us page the part number may have changed and we can cross reference it for you. If we don't have the part you're looking for, we will do everything we can to help you locate it.

Accurate Forklifts goal is providing you with the most dependable and reliable forklift service available in the forklift industry today.

Rent
We are one of the largest Independent forklift rental companies in the Atlanta Georgia and surrounding area. We have electric forklifts, liquid propane, diesel and all-terrain forklifts! Our lifting capacity ranges from 3,000 all the way up to 40,000. We have cushion / indoor tires available; as well as, pneumatic / outdoor tires. All of our electric forklifts come with a plug-in charger at no additional cost. We have a variety of attachments in stock, too. Ranging from carpet poles, carton clamps, slip-sheets, paper roll clamps and single-double that are always available for rent!
Service
Forklift Service and forklift repair in Atlanta Georgia. We have been repairing and providing forklift maintenance since 1996. We have a professional trained forklift service staff that covers Atlanta Georgia and its surrounding counties. We can handle anything from changing a tire to completely rebuilding your lift trucks. We have the capability of providing any forklift service that you may need to prevent downtime to your business or manufacturing facility. We understand the importance of up-time and the costs associated with your facility being down. If you need Forklift service for just one day or need a service tech for a month we have the technicians on staff to fulfill your needs.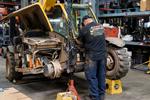 Forklift Sales
We are Atlanta's number one used forklift sales dealers. With over 350 used forklifts available for sale daily we are sure to have the lifting capacity you need. We carry all the major brands of lifts form toyota, hyster, mitsubishi, yale, nissan, etc. Stop by anytime to see the forklifts that we have for sale or we can have one of our outside sales reps stop by and go over options that we have available. Buying a forklift may seem logical to most people at first as it comes with ownership of the equipment. Buying also makes sense if your requirement demands a high degree of customization and special attachments or if you routinely move your equipment between different locations.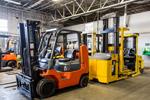 Forklift Parts
If you are in need for top quality Forklift Parts or used OEM forkliift parts we have you covered. We stock in our Atlanta warehouse over 110,000 sq. ft. of new and used forklift and lift truck parts. With over 1 million new and used parts we are sure to have the part you need.

We carry everything for a forklift from a seal kit to every forklift part you need to get your lift truck back in operation. We are one of the largest independent Total Source Dealers so we have access to over 6 million forklift parts with the ability to drop-ship from 6 locations throughout the U.S.