Servisní partner
Logitrans, Linde, Pramac, Crown, Jungheinrich, BT, Toyota, JLG, EP
Informace o firmě
Pallet Trucks Direct has provided Materials Handling, Warehouse Equipment and Forklift Trucks (Sales, Rentals & Servicing) nationwide in the UK since 2002.

We are authorised to sell and support the complete range of EP and Logitrans Warehouse Products along with other leading brands. our objective is to make the customer happy by delivering products which solve their handling problems and bespoke requirements.

Browse our online catalogue and make your purchase easily and securely through our PayPal based basket system. Our stock is changing daily so if you do not see what you are looking for please contact us and we may be able to source. Our products include:

Hand Pallet Trucks
Powered Pallet Trucks
Manual & Electric High-Lifters
Manual Stackers
Semi and Fully Electric Stackers
Stock Pickers
Accessories
and Much More...

We pride ourselves on supplying a prompt, reliable and helpful service at all times. We are confident that the quality of our equipment and standard of service is second to none.

Many more products available - please call for details on 01252 411841

Použité stroje
This used Logitrans SELF1002 / 3300 fully electric wrap-over pallet stacker is capable of lifting 1000kg capacity up to 2450mm and 800kg up to 2900mm and 600kg up to it's full height of 3300mm. It has a two stage mast with an overall height of 2240mm when the forks are on the floor. The truck has electric lift and electric drive motion. The truck is fitted with fixed forks that have an overall width of 560mm and a fork length of 1150mm. The Logiflex SELF is fitted with a 120ah battery and has an 230v internal charger. This used machine has only done 28 hours of work and was manufactured in 2012 and comes with 6 months parts and labour warranty. For full details or advise please call us on 01252 411841.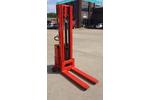 Pronájem
If you are not looking to purchase your items we have a range of equipment that you can hire from us.

We offer short term and long term hire packages that are ideal for all types of businesses with competitive finance packages.
The equipment that we offer for hire is always of a high quality and works to it's full capacity.

Please call us on 01252 411841 to discuss your requirements further.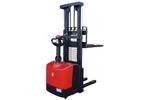 Servis
Pallet Trucks Direct can offer a comprehensive range of services, from simple repairs on your equipment to complete overhauls. We also operate a fleet of service vans manned by fully skilled service engineers, who can respond to your breakdown call as quickly and efficiently as possible.

Service & RepairService contracts available
We offer service contracts from pallet trucks to forklift trucks to keep your equipment running and to reduce downtime to a minimum. These are tailored to your usage and the age of the equipment.

After each service call a report will be issued with any possible faults highlighted and quotations given for further work.
Our repairs and servicing is ideal for customers in:

Surrey
Berkshire
Sussex
Hampshire
Kent
London
Devon
And available nationwide

TO DISCUSS YOUR SERVICING AND REPAIRS - CALL TODAY ON 01252 411841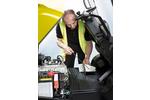 Driver Training
Do you have employees that need certification on the equipment they need to use? Our driver training packages cover a full range of equipment that is used within the workplace. From pallet trucks, high-lifters, and stackers to forklift trucks.


Driver Training - Why Choose Us?

We understand that you have a business to run and time means money. That is why we offer a flexible driver training service on your premises. Our trainers are available for the shift pattern and times that suit your business. To book a novice, semi-experienced or refresher training course call us today.

Our services are ideal for:

Surrey
Berkshire
Sussex
Hampshire
London
Wiltshire
Devon
And available nationwide

NEED TO BOOK ONE OF YOUR DRIVERS ON A DRIVER TRAINING COURSE? CALL US TO DISCUSS YOUR REQUIREMENTS FURTHER ON 01252 411841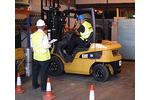 LOLAR
If you are an employer or self-employed person providing lifting equipment for use at work, or if you have control of the use of lifting equipment, you must make sure the lifting equipment is safe. The main requirements for you as a 'duty holder' are in the Provision and Use of Work Equipment Regulations 1998 (PUWER) and the Lifting Operations and Lifting Equipment Regulations 1998 (LOLER).

This page provides advice on the options you have under LOLER relating to the requirement for thorough examination and inspection of lifting equipment and explains the benefits of having an 'examination scheme'. However, this does not replace the necessity for operators to carry out checks to lifting equipment and accessories before uses

What does LOLER require?
LOLER addresses the specific risks associated with the use of lifting equipment. Thorough examination and inspection are key requirements of the Regulations. To meet these requirements, duty holders must:

ensure lifting equipment (including lifting accessories) exposed to conditions causing deterioration which could lead to dangerous situations undergoes regular thorough examination by a competent person; and
ensure all supplementary inspections and tests recommended by the competent person are carried out within the timescale stated.

All our engineers are fully certified and qualified to carry out inspections on pallet trucks to forklift trucks.

Call us on 01252 411841 to discuss your requirements or book an appointment.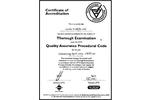 Obchodní plocha
Surrey, Berkshire, Sussex, Hampshire, London, Wiltshire, Devon and available nationwide