Serviço para
Blue Giant, TCM, BT, A-Lift, Caterpillar, Heli, Hyster
Informação sobre a empresa
Located in Welland, Ontario, the heart of the Niagara Region, Lift Line Machinery first opened for business in 1979. In the beginning, the primary focus of our staff of three was the service and maintenance of forklifts. Since that time, Lift Line has expanded to become a team of over forty skilled employees, and our range and depth of business pursuits and expertise now spans a wide spectrum of handling equipment and industrial supplies. We sell equipment and parts to companies across Canada and around the globe, while still maintaining the means and desire to provide personal service to small, independent businesses within the Golden Horseshoe area. Lift Line is a dynamic company whose business and knowledge is constantly expanding, ready to meet the challenges of the new millennium.

Of course, Lift Line Machinery still repairs and maintains forklifts. Our team of approximately twenty highly skilled mechanics service forklifts, heavy trucks, aerial and electric handling equipment, and other industrial vehicles within our expansive on-site shop, or from one of our seven fully equipped service vans. We are authorized dealers of TCM and Mitsubishi forklifts, and also sell a broad range of ergonomic equipment, industrial supplies, and other material handling products. Our parts department has a vast inventory of parts and products for all makes and models of forklifts, heavy trucks and trailers, and other industrial and material handling equipment. Please examine the rest of this site for more information on our products and services, or contact us by fax, phone, or e-mail. With our resources, expertise, and dedicated personal service, we are confident that Lift Line Machinery will be able to meet all of your industrial and material handling equipment, supplies, parts, and service needs.
---
Usados
Lift Line Machinery maintains the largest fleet of used and reconditioned forklifts in the Niagara Region. All makes and models of lift trucks can become available as rebuilt, reconditioned, used or "as is" equipment. Our stock of reconditioned equipment is constantly changing, so please inquire as to what may be available to suit your particular needs. If we do not have the type of lift truck that you are looking for, then we will find it for you. Lease packages are also available on all of our used and reconditioned lift trucks.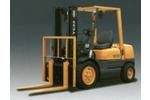 Máquinas novas
If you are in the market for a new lift truck then Lift Line Machinery is the place to go. Let our courteous and experienced sales staff help you determine the type of handling equipment that best suits your needs, while creating a purchase or lease package that suits your budget. We are authorized dealers of top brand name equipment such as TCM forklifts, and BT and Blue Giant electric handling equipment. You will quickly discover that our experience, dedication and service is unmatched. Our business is handling equipment, and we will not be satisfied until you are completely satisfied.
As authorized dealers of TCM forklifts, we offer complete lines of top quality machines that can be customized to fit your particular material handling needs. Lifting capacities that range from 3000 to 80000 pounds, equipment designed for indoor and outdoor use, and gas, propane, electric or diesel engines are just a few of the options that you will be able to consider when selecting your lift truck. All of our forklifts can be purchased or leased, and various types of maintenance packages are available.
Aluguer
We at Lift Line know that jobs may come up where a piece of heavy machinery or handling equipment is required, but only for a short period. That is why we rent all types of handling equipment for periods ranging from a day to more long-term agreements. Whether you require lift trucks, aerial equipment such as booms or scissor lifts, we can provide the machinery that you need for the length of time that you need it. We will also pick-up and deliver the equipment to and from your workplace, providing that it is located within the Golden Horseshoe area of Ontario. Call Lift Line when a job needs to be done, but you do not have the equipment with which to do it.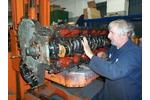 Serviço
At Lift Line Machinery, "we service what we sell." Our team of skilled mechanics work on-site in our vast repair shop, or will come right to your door to meet your service needs. Performing efficient, quality mechanical repairs is important to Lift Line, as we know how vital it is that your handling equipment and heavy duty trucks are in safe working order. A "machine down" situation should never cause your business to go down with it.
Working within our large, fully equipped repair shop is a team of well-trained, highly skilled mechanics. In order to develop and maintain their knowledge, we encourage and fund our mechanics to pursue further training and to gain additional certifications through government organizations and factory training opportunities. Our electrical repair shop is staffed with highly skilled electrical mechanics who work together to service electric handling equipment. We strive to ensure that the best, most knowledgeable people are servicing your vehicles.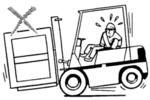 Training Programs
In conjunction with Niagara College, also located in Welland, Ontario, Lift Line Machinery has helped develop a training program that encompasses all aspects of lift truck operation and safety, as well as safety in propane handling. If an operator of equipment is required to handle propane cylinders for the purpose of refueling, the operator will be required to complete the mandatory training and hold a record of training as proof of completion. Be confident that your employees have the skills and knowledge required to properly operate your material handling equipment, while ensuring that safety is always the first priority. Programs that enable your employees to become certified under government safety regulations are also available. With Lift Line's extensive lift truck experience and Niagara College's training expertise, we are able to offer the most up to date and comprehensive training programs available.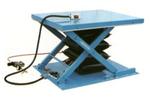 Ergonomic Equipment
Trying to maximize the efficiency and safety of your warehouse, loading dock, or production line? Lift Line Machinery offers a complete range of ergonomic material handling equipment to meet all lifting, dumping, tilting and rotating tasks. Whether you require hydraulic lifts for heavy items, "tilters" and "upenders" for dumping or transferring goods, or any other type of equipment designed to make a job easier, Lift Line is your source for ergonomic products. Our complete line of ergonomic equipment offers solutions for all lifting, bending and positioning problems. Increase productivity while decreasing worker fatigue and days lost to injuries. View the samples from our catalogue illustrated below to discover the wide variety of creative ergonomic products that will make work, and life, easier for your employees and your company.
Área de vendas
Golden Horseshoe