Service partner van
Jumbo - Bulmor, Kalmar
Over ons
UnikTruck is an internationally oriented trading company that specializes in buying, selling and renting out as-good-as-new preowned forklift trucks and container-handling equipment. Our international contacts and the proven competence in handling preowned equipment, is your guarantee for excellent products and services at a reasonable price compared to new equipment.

In principle we buy, sell and rent forklifts in all categories and sizes, and with both electrical and internal combustion engines. But our most important competence lies in the heavy forklift and container-handling categories from 10 – 52 tonnes capacity, which has been our specialty for many years. Through the last 15 years we have established a solid and wide network of trading partners around the world.

UnikTruck was established as an independent company by the CEO Mr. Michael Laursen in 2007. Michael Laursen is the former CEO and owner of the DanTruck forklift company in Denmark and subsequent CEO and partner in Gabelstapler Schlüter – one of the biggest Toyota and Kalmar dealerships in Germany, and as such has close to 20 years of international forklift experience in the medium- and heavy forklift and container-handling segments.

The main markets were traditionally Scandinavia and Germany but we have expanded immensely over the past 3-4 years, and today we can proudly state that we trade and do business all over the world – literally. On many of our foreign markets we keep separate stocks of forklifts, which means that we often do not transport a heavy capacity forklift or container-handler before it is sold. This provides flexibility and also reduces cost for the benefit of both our customers and ourselves.

Due to the internationalization which our company has undergone over the past years more than 95% of our turnover derives from activities outside our original home-market in Denmark. As a consequence of this we have opened an office as well as workshop and stock facilities directly within the international Port of Hamburg, Germany. All our equipment is routed via our stock in Hamburg where each unit is classified and will later be refurbished according to customer requirements.

From our premises in Hamburg we subsequently distribute our machines directly to customers on all continents. The utilization of Hamburg, Germany's biggest Port-city as a main hub for trading, renting and refurbishing as well as the implied logistics has been done in order to be as close to the customers and the marketplace as possible, both economically and physically
We are specialists in international trading and rental of preowned materials handling equipment. Our main specialty is the sale and rental of heavy duty forklifts from 10-52 tonnes capacity, which are often used in various heavy-duty industrial- and port applications and container handling forklifts and reachstackers from 10-45 tonnes which are predominantly used in ports, in freight terminals, in stevedore companies or in the transport trade in general.

In our rental fleet we always keep new or newish 12 ton, 16 ton and 25 ton forklifts available at short notice.

We buy, sell and rent out heavy forklifts and container handling equipment on a daily basis, and with all of the world as our market area. And we, of course, speak most of the European languages fluently.

Regardless of your specific need for heavy materials handling or container-handling, there is a high probability that we can offer you the best solution in terms of quality and economy.

Have a thorough look around our website and browse our services and products. Our selection of preowned equipment is updated on a daily basis, and all products can be purchased as well as rented for either shorter or longer periods.
____________________________________________________________________________________________________

Vi er specialister i internationalt køb, salg og udlejning af nyere, brugte gaffeltruck og container maskiner. Vort absolutte speciale er store gaffeltruck med kapacitet fra 10 – 52 ton, som ofte anvendes til tunge applikationer i industrien samt container maskiner med kapacitet op til 45 ton, som typisk anvendes på havneterminaler, i stevedorefirmaer eller i speditionsbranchen.

I vores udlejningsflåde har vi altid nye eller nyere brugte maskiner med 12, 16 og 25 ton kapacitet til rådighed med kort varsel.

Vi køber, sælger og udlejer store gaffeltruck og containerudstyr dagligt, og med hele Verden som vort markedsområde. Og vi taler selvfølgelig de fleste europæiske sprog flydende.

Uanset hvilke konkrete ønsker og behov du har, er der stor sandsynlighed for at vi kan tilbyde dig markedets bedste løsning.

Se dig omkring på vores hjemmeside og se vores aktuelle lagerbeholdning af gaffeltruck på brugtlisten. Maskinerne er alle til salg, men kan også lejes i kortere eller længere perioder.
____________________________________________________________________________________________________

Wir sind Experten für den internationalen Verkauf und die Vermietung gebrauchter Flurförderzeuge. Unser Hauptfachgebiet sind Verkauf und Vermietung von Schwerlastgabelstaplern mit einer Kapazität von 10-52 Tonnen, die oft in verschiedenen Anwendungsgebieten des Schwerlast- und Hafenbereichs eingesetzt werden sowie von Container- und Greifstaplern für 10-45 Tonnen, die vorwiegend in Häfen, Frachtterminals, Stauereien oder in der Speditionsbranche im allgemeinen verwendet werden.

Die neuen oder ziemlich neuen 12-, 16- und 25-Tonnen-Stapler unserer Mietflotte stellen wir Ihnen jederzeit kurzfristig zur Verfügung.

Wir kaufen, verkaufen oder vermieten Schwerlaststapler und Containerumschlaggeräte tageweise an Kunden auf der ganzen Welt. Und selbstverständlich sprechen wir die meisten europäischen Sprachen fließend.

Was auch immer Ihre spezifischen Bedürfnisse in den Bereichen Schwerlast- oder Containerumschlag sein mögen - wir können Ihnen mit großer Wahrscheinlichkeit die beste und wirtschaftlichste Lösung anbieten.

Sehen Sie sich auf unserer Website um und stöbern Sie in unserem Produkt- und Dienstleistungsangebot. Die Auswahl an Gebrauchtgeräten wird täglich aktualisiert, und alle Produkte können für kürzere oder längere Zeiträume sowohl gekauft, als auch gemietet werden.

---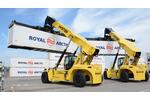 News
The company is run partly from modern, spacious and fully equipped facilities within the Port of Hamburg and partly from a sales office in the Aarhus area in Denmark.

The deliberate and strategic placement in Hamburg, the biggest port-city in Germany, means that we can do business quickly and efficiently in all of our market area, regardless if it is the direct shipping of products or it is the reception of customers from abroad.

Bought and sold equipment is transported by sea-vessel or lorry directly to and from our premises in Hamburg without any expensive or complicated stop-overs. And in relation to meeting our customers we are only 30 minutes drive from Hamburg International Airport.

The placement in Hamburg is very much a strategic one, and the whole idea is to minimize unnecessary transport and handling costs on heavy equipment bought abroad and destined for re-export abroad.
Verhuur
The purchase of a forklift truck or a container-handler – especially in the higher capacity classes – can be a very cash demanding exercise. An increasing number of companies wish to keep their operating capital for their core business-areas, which is why we see an increasing tendency to rent the equipment instead of buying it.
We offer 2 various methods of renting in order to ensure flexibility:

UnikTruck offers short-term-rental (STR) where we finance the equipment and take care of maintenance. We are self financed and own our own stock of equipment, so we have a very unique flexibility in this business area.
Alternatively UnikTruck offers long-term-rental (LTR) where we sell the equipment to a financial company, and take care of the maintenance. And we guarantee the depreciated buy-back value of the equipment at the end of the contract. This gives our customers the possibility to focus on the core-business and maintain an optimum of flexibility.

There are numerous advantages implied in short- and long-term rental, for example:

The paid rental costs are fully deductable in the P&L account
No capital tied up in equipment
No down payment
No scrap value at the end of the contract
No VAT to pay as you are renting, not purchasing the equipment
No stress on the bank limits
No initial document costs as we handle this free of charge

Please contact us at info [at] uniktruck [dot] com for a rental quote that suits your needs.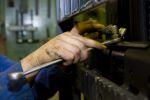 Workshop
All our equipment is routed through our facilities in Hamburg. In a specialized workshop, specifically built and equipped to handle heavy equipment, we inspect the equipment and subsequently classify it in 3 different technical categories;


As-is
Serviced and inspected
Fully refurbished

Due to the classification principle we often do not put a specific price on our equipment before we have entered into a specific dialogue with a specific customer, as the extend of refurbishing has a significant impact on the prizing. The individual needs and requirements of each customer is then discussed and decided upon, and we then price the equipment specifically including each specific customers needs.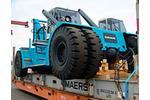 Transport and Shipping
We pride ourselves on assuring quick and effective delivery.

Our strategic placement directly within the international Port of Hamburg, from where we are able to ship heavy equipment directly towards all corners of the world, ensures that we keep close to our customers.

We have a high level of experience and competence when it comes to heavy equipment transports, regardless if it is by forwarded by sea-vessel or by way of road transport. All our transports are fully documented and we comply with all necessary export and duty criteria. We take care of planning, transport permits, police escort if applicable, insurance, duty clearance and other documents.

We do not merely help our customers to the exact right used forklift or container-handler, we take pride in delivery a complete package of product and services including door to door transports and initial on-site assistance if requested.