Service partner van
Toyota, Yale
Company Information
Reddilift is your complete forklift services company, providing the very best in Toyota and Yale forklifts in the West, Northwest and the Midland areas of Ireland, which include counties Donegal, Sligo, Leitrim, Mayo, Galway, Roscommon, Tipperary, Westmeath, Offaly and Clare.

Since 2004,We have provided the highest level of service to our clients, who now include a wide range of local enterprises, both large and small, as well as most of the multi-nationals operating in the area. Whatever your field you can be assured that we can help.

Our head office operates from a purpose-built workshop and showroom located in Barnaderg, which is five miles outside Tuam, on the main Dublin Road. With over 20 years experience working in the forklift business both in Ireland and abroad, our emphasis is on customer care and satisfaction. The success of our business is due to many factors but our after sales service is where we excel and in this regard we are second to none.

At Reddilift, we deal only in industry-leading brands Toyota and Yale, because our customers deserve the highest quality, value and reliability.
Verhuur
At Reddilift Forklift Services we operate an extensive hire fleet for both new and used forklifts to cater for all business requirements at very competitive rates for both long and short term hire.
Our Hire Fleet offers a choice of Forklifts to suit your business needs from 1500kg to 16000kg.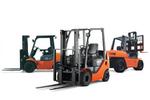 Driver Training
Reddilift forklift training main goal is to promote a safety conscious approach to forklift operation.
We carry out the driver training at the client's premises so that the trainee drivers can benefit from learning in their own working environment. We offer the following courses for Beginner to Experienced Operators:

Counterbalance 1-10 ton Forklifts
Refresher courses (Every 3 years)


All Employers are required since 2004, under 1993 Health and Safety at Work Acts to have all Forklift and Power Pallet Truck operators certified.
forklift_training.jpg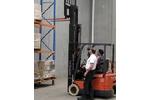 Service
Reddilift Forklift Services guarantees 24/7 back up service. If a customer requires service outside normal working hours, our land line phone diverts to my own personnel mobile phone, ensuring that all such calls are dealt with as soon as possible. This gives our customers the assurance that their call is dealt with immediately.

Our commitment to our customers is to minimise downtime and disruptions on both routine service and emergency repair work. This is backed up by our fully equipped mobile workshops which are serviced by qualified engineers who can repair breakdowns and carry out routine service work on site. For major overhauls and repairs we can collect and delivery with our recovery vehicle, without depending on outside contractors thus cutting costs and downtime.

The workshop was built in 2004 and it was specially designed for the repairing and refurbishing of forklifts. It is equipped with all the necessary equipment for forklift refurbishment such as our five tonne lifting capacity overhead crane and our specially designed spray booth. With this equipment we can give a forklift a full rebuild with reduced costs and downtime for the customer.
Verkoops gebied
West and Midland areas of Ireland, which include counties Mayo, Galway, Roscommon, Tipperary, Westmeath, Offaly and Clare.