Service partner van
Nexen, gebruikt
Over ons
A&L Stronach Ltd. provide Forklift Truck hire, sales and maintenance. Browse our selection of used forklift trucks here. For full details of the services we provide visit our Services Page.We are based in Inverurie, Scotland, to contact us call 01467 624655 or view our Contact Details.

A & L Stronach Ltd. has been established for over 25 years. We have become one of the most reliable small businesses to serve our customers needs with regard to good quality maintenance, hire & repair of equipment.

We are also Nexen dealers. In addition to service we offer a full range of new & used equipment, refurbished to suit any particular need or budget.

If you need the requirement of a forklift on site, but would rather concentrate on your own business then A & L Stronach can offer hire deals which include full maintenance and repair, and come with very competitive weekly rates.
Tweedehands
You can view our full stock here in Forklift or our website. We endevour to keep our offers up to date but please contact us if you find a forklift that interests you. All forklift trucks are fully checked, in good working condition and ready to go.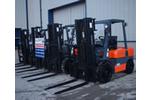 Service
At A&L Stronach we offer a wide range of services a selection of which are listed below. To browse current stock For Sale please visit the Stock Details section of our website for photos and information on current stock.


Fork Lift Truck Services:
Loler Examination & Certificiation Supplied
Truck Hire
Mechanical Handling
Secondhand Fork Lift Trucks
Hire, Sales & Servicing
Long term, Day or Weekly Hire
On-site Service
Forklift Driver Training
Attachments and Transport Supplied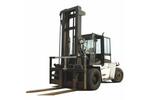 Verkoops gebied
We sell and hire new forlifts in Inverurie, Scotland.

We sell used and refurbished forklifts in Scotland, Wales, England and Ireland.

Enquiries from overseas are always welcome.