Service für
Mitsubishi, ATLET, Terex, Combilift, Aisle Master, Sichelschmidt
Firmeninformationen
For over 40 years Henley Forklift Group Ltd. and Henley Hire Services Ltd.- is a wholly Irish owned forklift specialist companies- we have been successfully at the forefront of the materials handling industry in the whole of Ireland. With a significant primary operating centre in Dublin we service our extensive nationwide customer base through strategically placed, locally managed regional offices in Cork, Limerick, Galway, Waterford, Kerry and Belfast.

Each of our regional offices carry and hold significant volumes of hire trucks, spare parts, new and second hand forklifts with a view to providing the best local service possible.

Henley's investment in people is the key to its reputation in the Irish market. This allows us to provide customer solutions from within the company rather than be dependent on overseas support from manufacturing principals.

Our promotion of an extensive range of equipment allows Henley to ensure that its customers can get the machine they require together with the assurance of our commitment to quality. Our personnel are trained to the highest standards and we make every effort to ensure our customer's requirements are met at all times.

We provide the full range of Mitsubishi, Atlet, Terex, Sichelschmidt and Ulma Inox Trucks to the Irish market. We service all makes and models of trucks and have ready access to spare parts for all types of forklifts across all brands.
---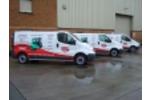 Aktuelles
Henley Forklift Group receives three new vans with new livery adding to our already fleet of modern, fully equipped mobile service vehicles
Gebrauchtgeräte
Henley Hire Services Ltd. is our Forklift Hire division specializing in the provision of both short term and long term forklift rental contracts to an already significant and growing hire market share.

Our quality range of modern forklifts, backed by an experienced professional team ensures that you get the forklift you need where and when you need it. Locally based hire centres equipped with a wide range of hire fleet trucks throughout the country allow Henley Hire to maintain its commitment to satisfying your requirements on time every time. Henley Hire boast one of the most modern hire fleets in the country and take steps to ensure that the machines are maintained to the highest standards at all times.

Our Hire Fleet

Full Range of Diesel Counterbalance Forklifts 1.5 to 16ton
LPG Counterbalance Forklifts 1.5 to 7ton
Electric 3 and 4 Wheel Counterbalance Forklifts 1.3 to 5ton
Reach Trucks 1.2 to 2.5ton
Power Pallet Trucks ( Pedestrian or Ride On ) 1.3 to 2.5ton
Sideloaders 4 and 5ton
Multidirectional Forklift Trucks – Diesel, LPG and Electric 2.5 to 12ton

Why choose Henley Hire

Contract directly and exclusively with Henley Hire Services Ltd.
Short Term and Long Term Contracts Available
Short Term - Daily, Weekly and Monthly
Long Term – 1,2,3,4,5 or 6 year including routine maintenance
Various Contract Packages to suit all types of applications
In House Transportation
Modern Fleet – All our fleet is purchased from new
Hire Centres in Dublin, Cork, Galway, Limerick, Belfast and Waterford
Committed and experienced Local Management
Regular Planned Maintenance
Trucks inspected prior to delivery
Trucks certified and certification provided annually
Familiarization course provided for all Long Term Contracts

Spare Parts
Henley Forklift Group Ltd. is committed to providing the highest quality products and brands. We make every effort to ensure that the products we supply meet your requirements at all times.

Henley Forklift Group operate on the understanding that you, our customer, should never be let down by the products we supply and to ensure minimum downtime in the event of breakdown we control a significant stock of spare parts in each of our operating centres ensuring that our engineers are properly equipped to back up our service network.

As part of our company structure each of our mobile service engineers carry with them a full and comprehensive van stock of spare parts to ensure that in the majority of cases breakdowns are resolved with no need for downtime or second site visits.

Our stores not only supply spare parts for the product ranges we supply but also have ready access to spare parts for all other manufacturers brands and types of forklifts with engineers qualified and fully trained to carry out such repairs.

On such occasions where a required part for any forklift is not readily available from any of our store locations we have the capacity to secure overnight the necessary items. This service allows us to maintain our commitment to reducing your downtime.
Fleet Management
keine Informationen
Verkaufsgebiete
Ireland; Dublin; Cork; Limerick; Galway; Waterford; Kerry and Belfast.