We offer a series of bespoke solutions to all our clients to assist them in the smooth running of your daily sales and stock management operations!
ロゴ及びリンク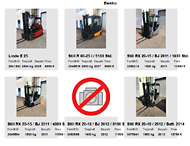 Your stock list can be linked up directly to your own website - in matters of seconds. Using this tool you can maintain your current list up to date for your local customers and have an edge over the competition. We can completely customise the layout in such a way that it fits to your current website layout and design and thereby making it easy for your customers to search for your machines. In our example, you will see a website developed by us, in which a link to the used forklifts is being incorporated via Forklift.
フライヤー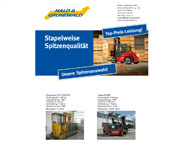 If you frequently want to print off flyers for clients or prospects, we have the right solution for you. With our special flyer tool, you can choose one or more machines listed in Forklift of your own fleet and create a leaflet with your own corporate identity layout. With a few clicks you can print out a flyer in colour suiting your customer's needs or your special offers. Your sales team can use this function on the move and from anywhere. In our example you see a flyer made by us for one of our clients.
見積ツール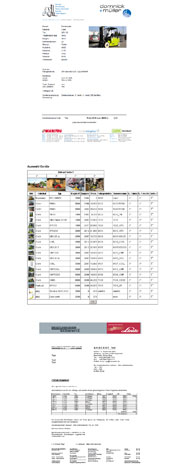 To save money and time we have a special solution for preparing and sending out quotes. With our instant quoting tool you can send personalised and fast quotes to your potential clients in your own headed paper.
Quote for a single machine
Simply select the machine you want to quote, enter your client's name and the price. Within minutes you will have a PDF quote ready to to and to be sent out.
Quote for multiple machines
You can also quote multiple machines at the same time. To do this select the machines you wanted to quote which are then neatly presented into a pre-set layout. In our example you can see how easy it is to make quotes for multiple machines.
Quote on Package deals
To offer package deals to your customers then why not use the Forklift package quoting tool and get a perfect quote with just a few clicks. Choose the machines you need for your packet and offer a package deal. You will always get an offer with your own company's layout.
Our system allows your sales force in the field to have immediate access to your uptodate machines and create unlimited number of quotes without much effort on a uniform layout. For all your quotes you can personalise them with your client's name and address and also write a tailor made text. Of course, we can offer this service on your rental machines tool.
項目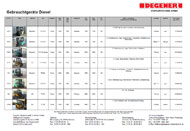 With our special programming you will always have your fleet of forklifts in one convenient list in your company's layout and without much effort, you can get all your fleet in one printable list - this way and at one glance you and your sales staff will always be up-to-date on what you have available.